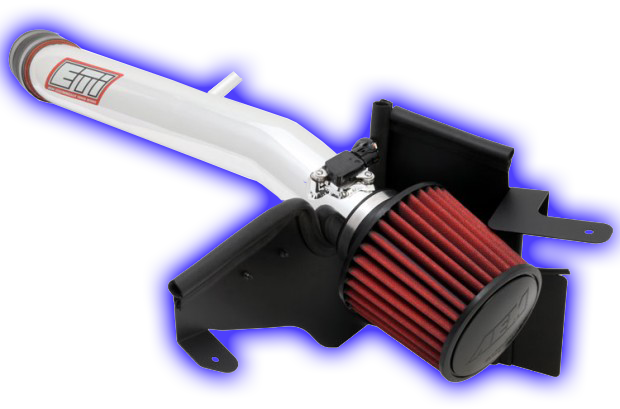 Luxury and performance are two car attributes that can result in a healthy price tag. If you enjoy leather interior, climate control and a smooth ride, it comes with a premium price. As the saying goes, you get what you pay for. The Lexus IS250 is quite the complement of luxury and performance but at times it could use a little more power to get up and go. That's where AEM comes in but the difference is the price tag. An AEM air intake will add power and performance to your IS250, however, the cost per horsepower gained is a great value. An AEM air intake brings your engine cool, dense air for extra power you can use.
AEM intake part numbers 41-1406C and 41-1406P are one of a kind intake systems manufactured to increase the engine performance and acceleration of 2006 through 2010 Lexus IS250 models with 2.5 liter engines. This is accomplished by removing the restrictive factory intake system and replacing it with low restriction components. These air intake systems include a washable and reusable Dryflow air filter that uses depth loading technology and a structural screen wire to enhance air flow. This filter provides outstanding engine protection. Also included are a custom high flow intake pipe, a powder coated heat shield and all the necessary hardware to complete the installation.
The main feature of 41-1406C and 41-1406P is the Electronically Tuned Intake (ETI) module which allows the mass air flow (MAF) sensor to read proper air density instead of using physical tube designs intended to get the correct airflow going by the MAF sensor. These AEM intake systems are tuned, for use on an IS250, with focus on performance gains throughout the power band. The result is a great design that increases power while working in-step with the vehicle's computer.
Power testing on these intakes showed an estimated increase of 6.6 horsepower at 5900 RPM. A power gain chart is available showing the test results. These AEM cold air intake systems can be installed with simple hand tools. A step by step installation sheet for easy installation is included.
AEM's high quality air intake systems are backed by a lifetime limited warranty. These air intakes are identical except for the tube finish. The 41-1406C is designed with a gunmetal gray powder coating and 41-1406P has a polished chrome-like finish- two great finishes and one significant horsepower gain.
To order click on image. For more information call:
"1-800-997-TINT"
or email
Click AEM for more products.