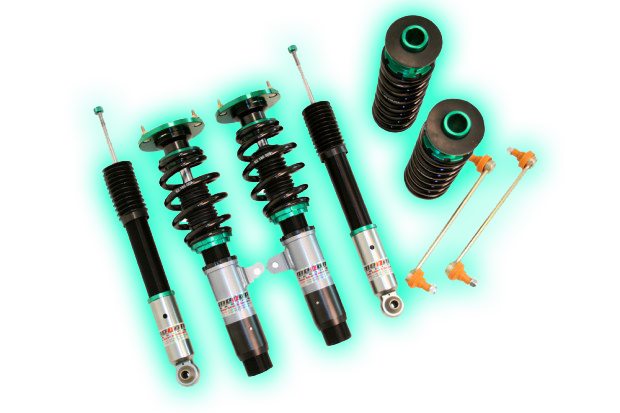 The Euro Street Series is our new Luxury Package based off of our Street-Series coil-over line-up using similar specifications and design, but offering a more conservative spring and damper setup for a more comfortable ride, yet still providing a sporty feel and control.
The new BMW E82 1 Series M Euro Street Coilovers utilizes strut-type suspension designs, which come with fully adjustable Pillow-Ball upper mount camber plates to easily tune and adjust your camber, giving you a competitive edge over other suspension setups. This allows you to tune your car for any ride height and still adjust camber to improve handling, vehicle predictability and tire wear, which is a great benefit both on the race-track and on the street.
The quality and durability of the Megan Racing Damper kits are unmatched. Made of extremely durable Steel and featuring springs that are constructed of SAE-9254 Cold-Wound Steel which are then tested over 500,000 times by compression inspection. With deformation less than 5% and high strength sophisticated surface coating, we stand by our product with our strong warranty.
To order click on image. For more information call:
"1-800-997-TINT"
or email
Click Megan Racing for more products.
Comments
comments