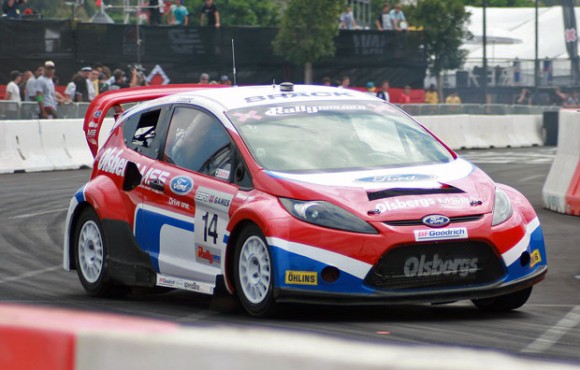 The Cinderella Story which belongs to Swedish driver Kenny Bräck inked it's chapter on redemption today, with an Gold Medal finish at the 2009 X Games. Bräck won the gold with an impressive display of both road and rally driving skills along with a bit of luck. A brief of history on Bräck: this CART, IRL and IROC Series driver claimed an Indy championship in 1999 and then had his career (and life) all but ended after a devastating crash at Texas Motor Speedway. Entering as a rookie to Rally and X Games, this event also marked Bräcks' first return to heads up driving competition since the crash.

After battling through Eliminations, Bräck was matched up against top seeded and favored drivers; Ken Block in the Semi's and Travis Pastrana in the Final. Bräck got a bit of help from driver error which ended in DQs for both Subaru drivers, giving Bräck and his Ford Fiesta Team the Gold. Although he won on DQs there's nothing to be taken anything away from Bräcks' accomplishment, as he did turn the fastest time of the day with a 3:24.887 (Pastrana turned the second fastest time with a 3:25.342).
Check out full race results, gallery and much more over at ESPN.
Comments
comments