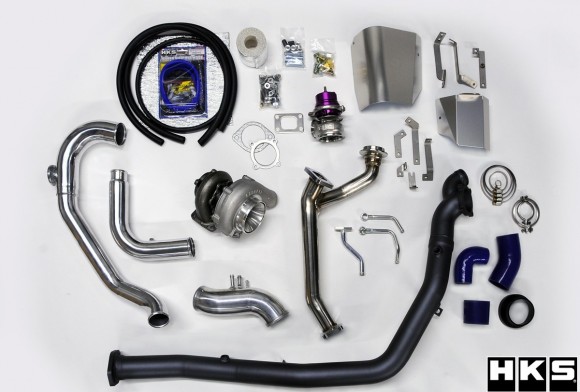 HKS, the world leader in import performance is an arms dealer of sorts when it comes to equipping the already potent Subaru WRX STI with weapons of mass acceleration. The Subaru WRX STI can now suit up with a GT Full Turbine Kit (with external wastegate) capable of power levels exceeding 500HP with proper internals and tuning. The 11003-KF001 includes the following components to make that happen:
GT3037S Turbine (56T A/R 0.87)
GT II Wastegate (50mm)
Up-Pipe SUS304 (50mm)
Downpipe (70mm)
Bypass Pipe (SUS304)
Chamber Pipe (Polished Aluminum)
Suction Pipe(Polished Aluminum)
Water/Oil Lines & Support Parts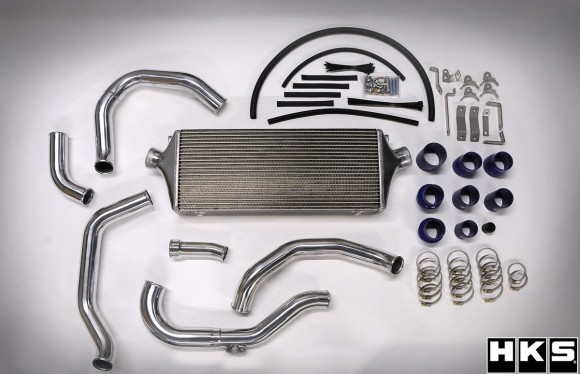 To further compliment the GT Full Turbine Upgrade, HKS has also released a new R Type Front Mount Intercooler to handle cooling duties. The intercooler core is a whopping 600mm x 255.6mm x 103mm and includes all necessary piping and couplers for a complete install, although some bumper modifications may be necessary.
To Download these Press Releases in their entirety – HKS PR – STI GT Turbine Kit & HKS PR – STI R Type FMIC
Comments
comments