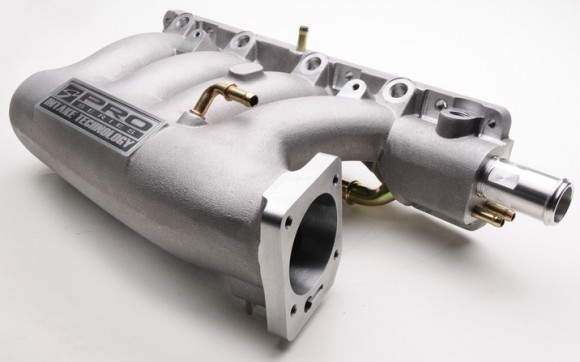 Skunk2's Pro Series Intake Manifold for Honda's K-series has arrived. Skunk2 engineers looked to the popular '06+ Civic Si's RBC intake manifold for inspiration and went back to the drawing board. Skunk2's Pro Series Intake Manifold for Honda's K-series features a larger plenum and shorter, oversized runners when compared to the RBC, and is cast with thicker wall material, leaving room for further porting for high-horsepower applications. Instead of producing a manifold with a significantly oversized plenum and excessively short runners that would sacrifice mid-range power, the Pro Series manifold was designed for the "street enthusiast" who wants more power but doesn't want to sacrifice mid-range performance to get it. The results are improved airflow, an enhanced venturi effect, and both mid-range and top-end power gains.
Skunk2's all-new, cast-aluminum Pro Series Intake Manifold for Honda's K-series is a direct-fit replacement for all K20/K24 engines thanks to its unique, patent-pending water neck design and throttle body flange, which is compatible with OEM throttle bodies as well as those as large as 76mm ('06+ Civic Si requires adapter, sold separately). The special water neck design eliminates the cutting that would otherwise be involved with some RBC applications (remaining applications require special 1.0 x 11.5-inch NPT plug, sold separately), and the supplied thermal-insulated intake manifold gasket makes for a truly bolt-on installation (no drilling or modifying required). Pro Series manifolds also incorporate an angled-runner design, which allows for ample hood clearance on '88-'00 Civics and '90-'01 Integras with K-series engine swaps, as well as additional core support clearance on '02-'05 Civic Sis.

Pro Series Intake Manifolds offer horsepower and torque gains greater than the popular RBC manifold but without compromising mid-range power output. The design incorporates runners that are similar in length to the RBC's but with larger bores, a special tapered design, as well as a larger, tapered plenum that together preserve mid-range power but increase and accelerate airflow to allow for significant top-end power gains. Pro Series Intake Manifold runner exits are also machined and hand-finished to best match the cylinder head's ports. Skunk2's Pro Series Intake Manifold's shape and design also increases wave scavenging effects at the engine's ideal operating range, which allow for a broad increase in usable power.
Skunk2 is a familiar name in the intake manifold business, with more than 10 years of experience designing, testing, and building them. Similar to OEM manifolds, Skunk2's Pro Series Intake Manifolds are shell-molded and CNC-machined for superior strength, a precise fit, and a high-quality finish. Each manifold is molded with smooth transitions from the throttle body opening to the plenum to the runners with clean parting lines for an optimal finish, both inside and out.
Skunk2 K20/K24 Pro Series Intake Manifolds will be available soon at a retail price of $449.99.
FEATURES
Increased Mid-Range and Top-End HP and Torque
Unique Water Neck Adapter Eliminates Cutting
70mm Throttle Body Bore
Compatible With Up To 76mm Throttle Bodies
Thermal-Insulated Gasket Included
No Throttle Body Adapter Required
Angled Design for K-Swap Hood Clearance
High-Grade, 356-Aluminum Construction
OEM-Quality, Shell-Molded Casting
Skunk2 Nameplate
Vacuum-Tested for Quality
OEM Sensor Provisions
Introductory Retail Price: $449.99
For the complete write up and more pictures, check out Skunk2 KSeries Intake Manifold
Comments
comments